It's a more chirpy return to blogging I'm delighted to say - and with both hands too. It's been a whole 8 months since I last put word to screen which although is really frustrating in many ways, mostly is just reflective of how eventful things have been. There are too many things to mention right now and so it's reassuring to know that I have some material to keep me blogging for the weeks and months ahead as I leave a memorable summer behind. Besides, I'm so excited about writing again, that words are literally tumbling out of my brain and on to my lap top and so I'm trying to keep up with myself.

To begin is to momentarily return to April 2010, the 30th to be precise. A funny but wonderful thing happened on the way to being 32. My boyfriend, Alex, decided for some inexplicable reason that he wanted to be married to me and went about giving me the day of my life so far –
The Proposal Day. Without hesitation I said yes. I am now engaged. It is time to plan.

There was of course much more to The Proposal Day than a few words on a page and there is of course much more to The Planning than a few words on a page so elaboration is to follow. However, it was brought to light this week that a very important decision is to be made. Four people, separately and without prompting, asked me if I'd starting looking for my dress. THE dress.

The answer of course is a resonating, rather worrying 'no'. Not even considered it for a millisecond. Not even picked up a bridal magazine. Not even thought about it for one iota of a minute. It's easy to blame this lack of consideration on a demanding job, a busy life like the rest of us, general lack of time, being far too excited about Jo's wedding, not even having the time to familiarise myself with A/W 2010 trends due to unread Vogues/Grazia's/fashion blogs etc.
But the truth is... I'm terrified. I don't know where to start. I feel more at ease having 3 changes of clothes if on holiday or away for the weekend. Per day. I constantly fill my head, notebooks, and eyes with images of delicious fashion but having to decide what to wear on my wedding day feels truly unmanageable. I don't know what to wear on a daily basis let alone on The Day. I am lost.
I decided it was time for a little inspiration. I dream of Balenciaga, but my budget is more in the real world but that doesn't mean I can't have a look at what's been to get the creative bridal juices flowing.

Some sources of inspiration:
Carrie Bradshaw in Vivienne Westwood – in gorgeous champagne silk with a built-in corset, asymmetrical hem and a magnificent puffy skirt, Carrie was a vision. Stupid, stupid Big. This is the sort of dress dreams are made of.

Grace Kelly in Helen Rose in silk needle lace, faille and tulle. A true icon of style transformed into a beautiful royal bride. I love the elegance of this dress.
Carolyn Bessette in Narcisco Rodriguez – a simple yet elegant silk crepe floor-length gown that seemed to defy the usual meringue, is a true inspiration. If only I could look that relaxed (and sun-kissed) in any dress.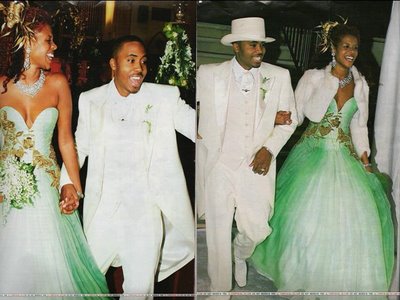 Finally, Kelis in Matthew Williamson. A colourful vision in layering chiffon, this is not your average gown but then MW is not your average designer. I love the fact that this dress reflects her unique and vibrant personality.
Ok, it's a good start. I'm still none the wiser and I can't put it off any longer, but let the exciting, but scary, search begin.
I have everything crossed that I get it right.

N x